Tags
Posts tagged with "hiit"
The "Rhythmic", high-rep DB snatch has become one of my go-to moves for 30:30's. There is not much that can match the intensity yet...
Awesome HIGH Intensity finisher to put the exclamation point on your training session!
One of the best Complexes to not only rev up the metabolism and build great strength and power.....this will really allow you to practice...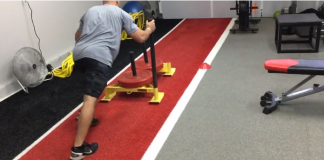 This is great to really get the juices flowing and you don't have a lot of space. The stopping and starting of 'suicides' adds...
Simple but NOT easy....give this countdown a shot if you want a quick workout that will surely get your ventilation GOING! WOW KB SQUAT HINGE...
OK...I am officially the world's 'worst 'blogger' so I am recyling an older blog post because, like a bear has no other choice but...