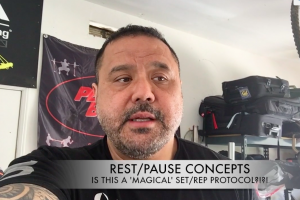 **I Have decided to release some of my Premium Content during these trying COVID-19 'Stay in Place' times – I know you may not have all these tools at your disposal but hopefully you get some ideas and can sub exercises. I will be posting LOTS of different protocols and exercises using TONS of different tools so keep tuning in!**
Today's WOW is a new take on how we might play with our sets and reps. Try plugging in this type of rest-pause style of set into your regular routine – just use 1-2 sets per exercise and let the EPOC BURRRRRNNNNN!
*Be sure to click on the links below to see the Research Study Abstract and full article!
CLICK HERE FOR FULL RESEARCH ARTICLE
*EDIT* I say to rest 30 seconds before doing 1-2 more reps – should be 20 seconds
Post Comments
comments