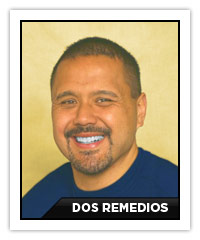 Coach Robert dos Remedios has been involved in strength and conditioning for over 23 years. After completing his competitive football career at the University of California, Berkeley in 1988, he began training athletes on a full-time basis.
"Coach Dos" has a Master's Degree in Kinesiology with an emphasis in Biomechanics from California State University, Northridge, has been a Certified Strength and Conditioning Specialist (CSCS) with the NSCA  since 1990, and is one of only 100 "Master Strength & Conditioning Coaches" (MSCC) in the world as recognized by CSCCa.
Coach Dos is a sought after international speaker on a variety of conditioning topics
such as Program Design, Cardio-Strength Training, Olympic Weightlifting
applications, Sport-speed development, Explosive training, and CHAOS™ Speed Training. Coach Dos serves as Director of Speed, Strength & Conditioning @ College of the Canyons in Santa Clarita, CA, a position he has held since 1999.
Coach Dos is also the 2006 recipient of the National Strength and Conditioning Association's prestigious Collegiate Strength and Conditioning Professional
of the year for 2006. This award is given to the top collegiate strength coach
in the country  (as voted on by his peers).
In addition to contributing to Men's Health magazine on a regular basis, Coach Dos' first book Men's Health Power Training (Rodale Books) was released in July 2007 and become a best seller. His second  book, Cardio Strength Training (Rodale Books) is also a best-seller. Coach runs a thriving membership website at www.coachdos.com