It's that time again folks…Time to raise some money for a local animal shelter! Last year we set a record with a $3000 donation to the SPCALA. This year, 100% of all of the money that comes in will be going directly to the Castaic Animal Shelter out here in my neck of the woods in Santa Clarita, CA. This shelter is very dear to my heart since we have adopted both our little Sammie and more recently Max the wonder-dog from here. They are in great need of donations and a chunk of change like this would make a world of difference for this small shelter!
Our FAMILY – Max and Sammie
So I hope ALL of you will choose to donate to this awesome cause and I also hope that many of you will be able to join us August 9th in Long Beach, CA! remember 100% of this donation will go directly to the Castaic Animal Shelter and you get to know that you have made an animal's life THAT much better!
There will be t-shirts, raffle prizes, and lots of FREE PINTS compliments of our amazing sponsors (below) at the event. If you can't make the event I STILL want to show my appreciation for your help by sending you a free set of my workout cards ($35.99 value!).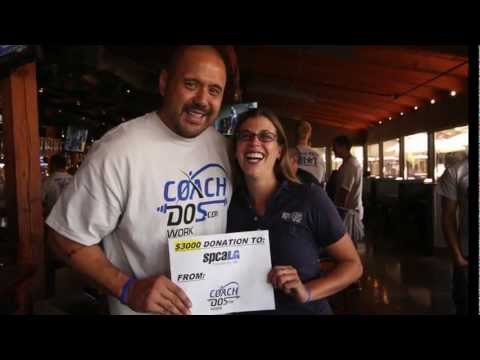 Check out our re-cap of last year's event! 
DONATE TODAY! (T-shirts and drink tickets will be distributed at the actual pub crawl. Please indicate t-shirt size ONLY if you plan on coming to the actual event)
$30 Donation – Please email me my FREE workout cards, I will let you know if I plan on coming to the Crawl!
BONUS! First 10 people who donate will receive a Copy of  Alwyn Cosgroves's brand new book New Rules of Lifting For Life…The next 20 who donate will receive a copy of Results Fitness 55 Fitness Business Strategies for Success
$10 Donation – I can't do the $30 this time but I still want to make a difference for the animals!
Frankie's Pup "Noodles" Endorses this Pub Crawl! =o)